Camp Road Animal Clinic has been serving the Southtowns for many, many decades. First owned and operated, by Dr.Swart, it was purchased by Dr. Tonia Hite in 2007. She works tirelessly to establish personal connections to every client and patient to provide the best possible care. She is a graduate of Ross University's School of Veterinary Medicine and previously worked at several clinics in the area before settling down in Hamburg with a clinic of her own. She is fondly referred to as a cat whisperer around the clinic and has a dog named Keeta, who is so well trained she comes to work at the clinic too.
Meet The Staff
Leanne is our head LVT. She graduated from Medialle College in 2011 and she's the proud mom of 2 wonderful girls. She also has a Boxer named Tyson and a cat named Jack, who are both patients at the clinic. 
Kelly is a Veterinary Assistant who has aspirations of pursuing her DVM once done with undergraduate studies. For now she goes to SUNY Fredonia for Biochemistry and does a variety of extracurricular activities. She owns two dogs and trains them regularly.
Rick is a Veterinary Assistant with 20/20 vision and a big personality. He is the owner of Smokes Creek kennels and raises champion beagles.
Maddy is a Veterinary Assistant with previous experience at a doggie daycare and is quick to hug and play with every dog she meets. She has two dogs of her own and she can often be found cuddling with Keeta in her alcove.
Anna is a veterinary assistant who has always loved animals. She has two dogs, two cats, and a horse.
Keeta is Dr.Hite's dog and she comes to work every day. She always runs in with a smile on her face and her tail wagging at a 100 miles per hour.
Mango is our new clinic resident! He is a friendly old cat that loves greeting all the clients and patients who visit.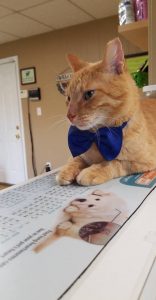 May 17, 2017
2019/03/25